Yava Labs Pure Iso Whey – 2KG
€71.99
Description
Pure ISO Whey by Yava Labs is a whey protein isolate with a high-quality protein concentration. The superior whey protein isolate formula is designed to enhance building muscle mass, improve recovery times and optimize athletic performance. The protein supplement allows for a fast supply of amino acids in circulation due to its rapid breakdown and absorption. The high-quality product is also ISO Certified and dope-free, making it fit for human consumption. The product is helpful after training and other vigorous body activities. Today, Whey PURE ISO stands out as one of the best-selling protein powders due to its unique and instant effects on the body in regaining lost energy.Consumption of Pure ISO is an exciting experience because the product has been manufactured in various flavors, including vanilla, strawberry, raspberry, coffee, and chocolate, to suit the diverse customers' choices.
Each 2-kilogram pack of Pure ISO constitutes 25 grams of protein, 2.5 grams of Branched-Chain Amino Acids (BCAAs) responsible for building and rebuilding lean muscle mass, and 2.6 grams of Leucine, which is responsible for enhancing skeletal muscles and mass. Each pack is generous enough to provide 66 servings, each 30 grams (1 scoop).
Pure ISO is made from naturally-drawn ingredients including whey protein isolate (from milk), Flavour, Carboxymethylcellulose emulsifier, Sunflower Lecithin, Guar Gum thickener, Xanthan Gum, Salt and Sucralose and Acesulfame K. sweeteners. Pure Iso may also contain traces of gluten, eggs, sesame, nuts, and celery.
Pure ISO is best used as part of a well-balanced diet and should not be used as a substitute for a varied and balanced diet.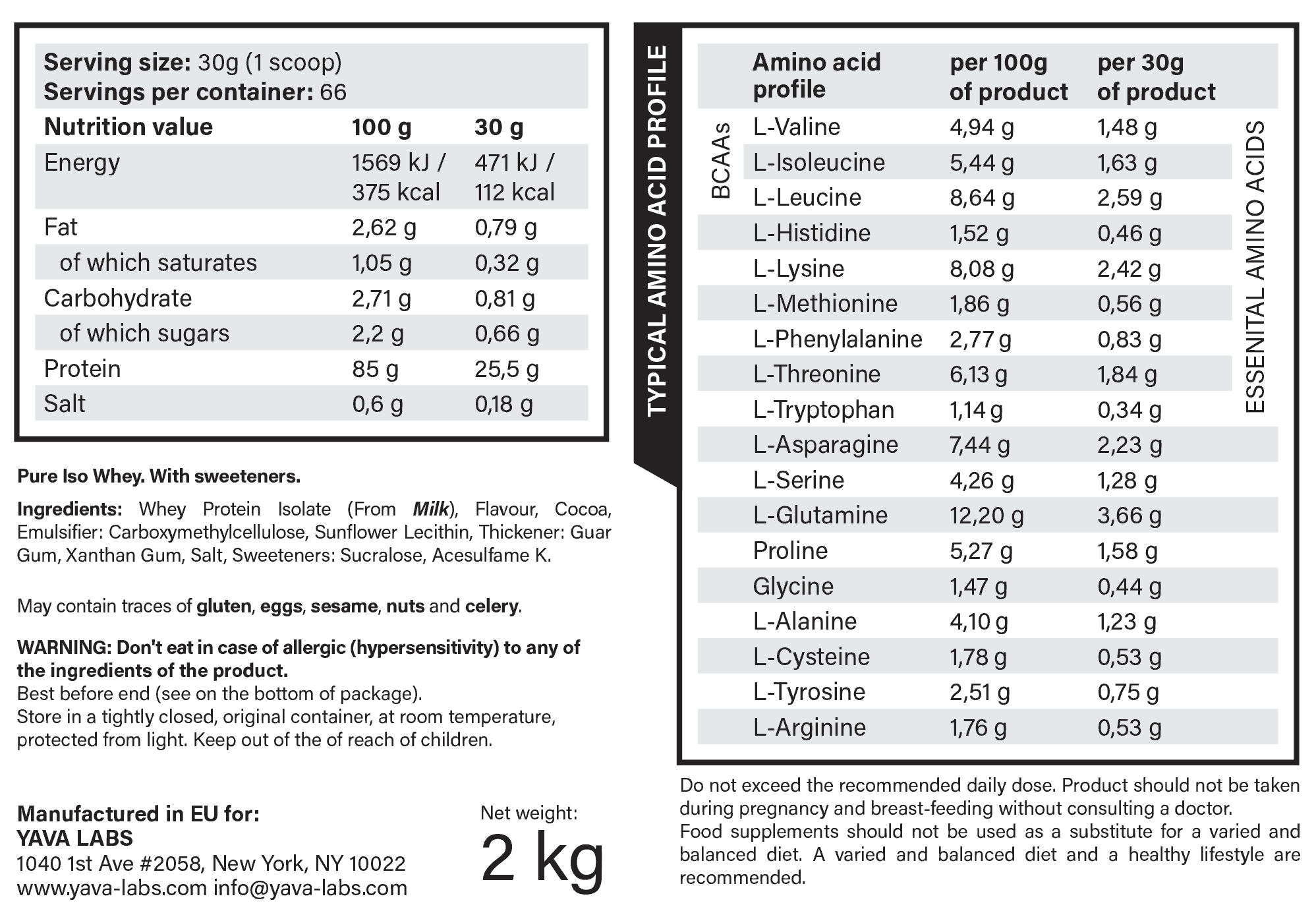 Suggested Use: Add 1 scoop of Pure ISO to 6-12Oz of cold water, milk, or other beverage or mix. Mix thoroughly and take immediately. However, individual nutritional requirements vary with body weight, gender, and level of training/exercise. However, you should not exceed the recommended daily dose.
Warning: Pure ISO is only intended for use by healthy adults and MUST NOT be eaten in case of allergy (hypersensitivity) to any of the product's ingredients. Pregnant and breastfeeding mothers should always consult a doctor before using this or any other dietary supplement product.
Additional information
| | |
| --- | --- |
| Flavour | Chocolate Caramel Toffee, Vanilla Ice Cream |