Yava Labs Pre Workout Shot Lemon Orange 60mL
€1.79
Description
Yava Labs' Pre Shot has a high concentration of energizing caffeine (200 mg per 30 ml dosage). Taurine is a sophisticated pumping compound rich in beta-alanine that gives the appearance of a fuller muscle and increases vascularization. Exercises with high intensity may last considerably longer with Pre Shot.
Pre Shot guarantees user comfort without the need for a shaker. An good energy boost, which also improves focus and influences the supply of oxygen and nutrients to working muscles, is what makes a booster useful.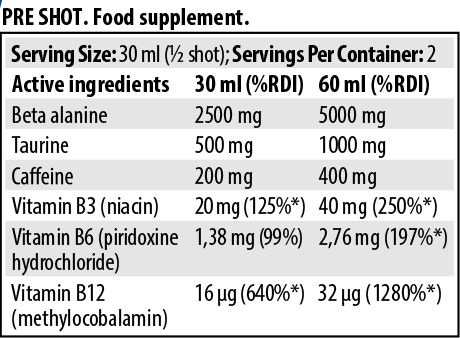 The beta alanine in Pre Shot is required for the synthesis of carnosine and the protein building blocks that slow down the aging process of the body. The substance aids in the healthy growth and operation of muscles. Because the amino acid is known to lessen muscular tiredness, it may improve the performance of your muscles during exercise. This then encourages the formation of muscles. Weight lifting and other intense short-term exercises benefit greatly from beta-alanine. Because beta alanine widens the blood vessels, more blood and oxygen may reach the muscles.
a serving every two hours (1 serving – 30 ml). Shake firmly before using. Don't go above the daily amount suggested.
Store at room temperature in the original, tightly-sealed container away from light. Keep out of children's reach.