Yava Labs Fat Burner – 300g
€29.99
Description
Introducing Yava Labs Fat Burner Powder, your ultimate ally for torching unwanted body fat and boosting your energy levels. This meticulously crafted formula comes in a convenient 300g container, providing you with 30 servings of powerful, fat-burning goodness.
Each 10g serving is loaded with potent, scientifically-backed ingredients designed to enhance your metabolism, increase thermogenesis, and support healthy weight management. Here's a closer look at what makes our Fat Burner Powder so effective: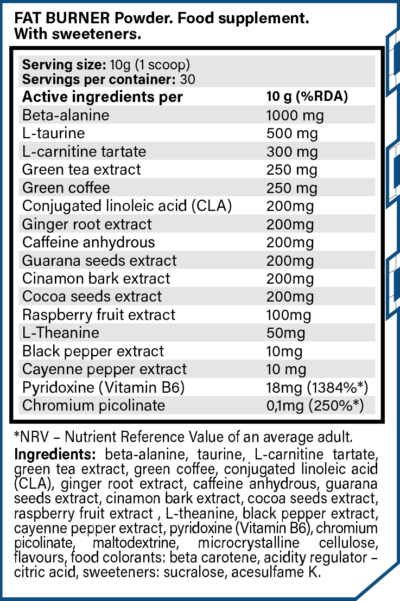 – Beta Alanine (1500mg) to improve muscular endurance and reduce fatigue
– L-Taurine (500mg) for enhanced energy production and mental focus
– L-Carnitine (300mg) to promote fat oxidation and aid in recovery
– Green Tea Extract (250mg) for natural thermogenic effects and antioxidant benefits
– Green Coffee (250mg) to stimulate metabolism and support fat burning
– CLA (200mg) for reducing body fat and preserving lean muscle mass
– Ginger Root Extract (200mg) for digestion support and appetite control
– Caffeine Anhydrous (200mg) for increased energy, focus, and calorie burning
– Guarana Seeds Extract (200mg) to provide sustained energy release and metabolic support
– Cinnamon Bark Extract (200mg) for blood sugar regulation and appetite suppression
– Cocoa Seeds Extract (200mg) for mood enhancement and antioxidant protection
– Raspberry Fruit Extract (100mg) for additional thermogenic support and improved body composition
– L-Theanine (50mg) to promote relaxation and counteract the effects of caffeine
– Black Pepper Extract (10mg) for enhanced absorption of other ingredients
– Cayenne Pepper Extract (10mg) to stimulate metabolism and support weight loss
– Pyridoxine Vitamin B6 (18mg) for energy metabolism and immune system support.
To enjoy the full benefits of Yava Labs Fat Burner Powder, simply mix a 10g portion (1 level scoop) with 200ml of water and consume directly after preparation. Get ready to ignite your weight loss journey and fuel your workouts with Yava Labs Fat Burner Powder today!
Before using Yava Labs Fat Burner Powder, consult a healthcare professional, especially if you are pregnant, nursing, or taking medication. Be aware that this product contains caffeine, and if you are sensitive to stimulants, start with a half serving to assess tolerance. This product is not intended for individuals under 18 years of age. Discontinue use and consult a healthcare professional if adverse reactions occur.
To maintain the freshness and potency of Yava Labs Fat Burner Powder, store it in a cool, dry place, away from direct sunlight, heat, and moisture. Ensure the container is tightly sealed after each use to prevent contamination and keep the product fresh. Keep out of reach of children and pets to avoid accidental ingestion.