Yava Labs Complex Mass Pro – 6KG
€59.99
RICH IN PROTEIN

WEIGHT GAIN

HIGH CALORIE

INHIBIT MUSCLE BREAKDOWN
Description
Yava labs' complex mass pro is a food supplement designed with high-quality components, inhibiting muscle breakdown during strenuous activities and enhancing muscle building. Our brand is well-known as a prominent producer and supplier of muscle mass gainers.  The complex mass pro provided by us is widely demanded by the individuals engaged in gyms and sports. Our complex mass pro is distinguished by its high nutritional value and anabolic activity compared to other dietary proteins. We process the product with modern technical techniques that preserve the entire structure and activity of functional proteins and growth factors. It is an amazing blend of protein and carbohydrates, makes it the best brand you should choose for quick mass gain.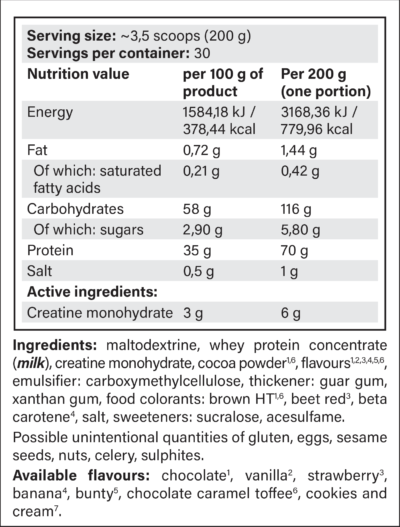 One serving offers 70grams of unique super-duper protein mix, which provides important protein building blocks to an athlete's muscles. Also, it contains 116grams of carbs. The distinct carbs combination provides the caloric support required by great physical exertion, assisting the body in preparing for and recovering from intensive exercise. Healthy fats offer quick-burning fuel to meet the energy demands of serious athletes. Consumption of complex mass pro is an exciting experience because the product has been manufactured in various flavors, including vanilla, strawberry, banana, chocolate caramel toffee, chocolate coconut, and cookies and cream to suit the diverse customers' choices. Furthermore, a serving contains 6grams of creatine, a top supplement for exercise performance that produces a conducive environment for muscle regeneration, hydration, enhanced exercise capacity, and growth.
Suggested use: Add one serving in 200 ml of water or milk and mix thoroughly. Besides, it has a smooth texture and, therefore, can be added to your preferred smoothie or shake. However, individual nutritional requirements vary with body weight and level of training/exercise.
Warning: It is not recommended for pregnant women, breastfeeding mothers, and people allergic to any product's ingredients. A dietary supplement cannot be a replacement for a healthy lifestyle. Do not exceed the recommended daily dose.
Storage: Store in a tightly closed, original container, at room temperature, protected from light. Keep out of reach of children.
Additional information
| | |
| --- | --- |
| Flavour | Banana, Chocolate Coconut, Chocolate, Cookies n Cream, Vanilla, Strawberry, Chocolate Caramel Toffee |